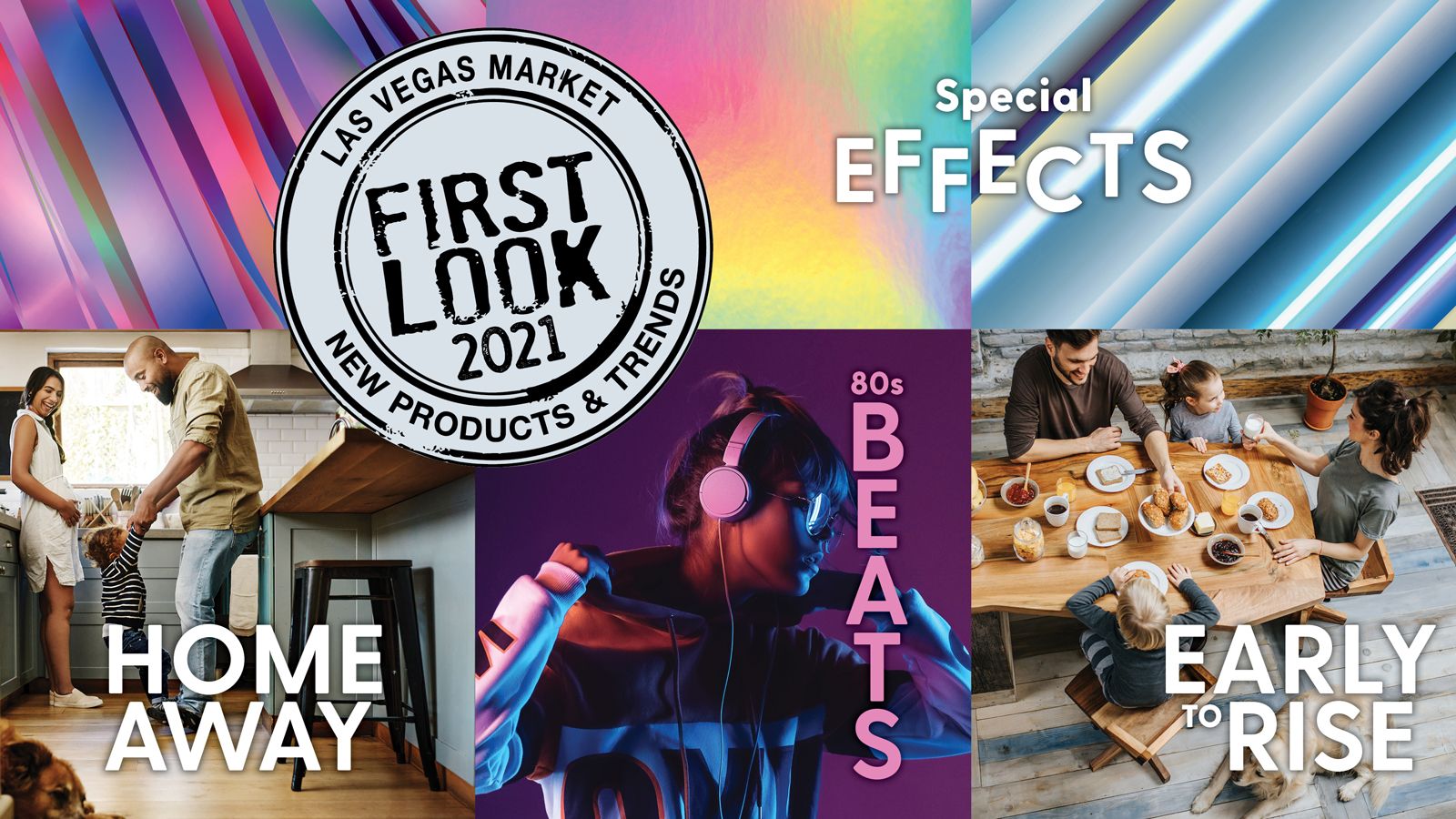 Las Vegas Market's Summer 2021 FIRST LOOK Showcases Four New Gift and Home Trends
'80s BEATS, EARLY TO RISE, HOME & AWAY and SPECIAL EFFECTS
Exhibitor Product Submissions Due June 9, 2021
LAS VEGAS, N.V. – (May 25, 2021) – Las Vegas Market announced today four design and color trends in its proprietary FIRST LOOK program – EARLY TO RISE, SPECIAL EFFECTS, HOME & AWAY and '80s BEATS – for the Summer 2021 Market, Aug. 22 – 26 at World Market Center Las Vegas.
"The Summer 2021 First Look trends reflect the optimism of consumers now with bright colors, playful materials, a bit of whimsy and an excitement to return to travel and other activities," said Dorothy Belshaw, chief customer and marketing officer for IMC. "FIRST LOOK identifies these trends in the context of Las Vegas Market and serves as a preview for retailers and designers looking for relevant at-market resources."
The four Summer 2021 FIRST LOOK themes are:
• '80s BEATS: Eighties-era influences span all product segments at Las Vegas Market, from curvy upholstery and expressionist accessories to vintage handbags and lip balm. Both modern and vintage in mood, '80s BEATS presents bright colors, pronounced contrasts and sweet pastels across all categories.
• EARLY TO RISE: Sunny is up and novelties are sweet in EARLY TO RISE, a casual vignette filled with housewares, small appliances, tabletop, gourmet, dining furniture, and decorative accessories. EARLY TO RISE is family- and wellness-focused and filled with bright colors. Look for PANTONE's co-color of the year, Illuminating 13-0647, as well as upbeat blues, purples and rosy pinks. Charming novelty patterns and motifs, including citrus, florals and animals, dress up the display; meanwhile, sweet and savory treats and captivating fragrances offer seasonal temptations.
• HOME & AWAY: FIRST LOOK hones in on what home means to the post-pandemic consumer. Meanwhile, pent-up demand for travel, vacation and experience grows with each passing sunset. FIRST LOOK breaks down timely data to understand how consumers are spending and plan to spend discretionary dollars in the months and years ahead. An efficient, shared living space decorated with a mix of materials and transitional styling is the backdrop for HOME & AWAY.
• SPECIAL EFFECTS: Abstract patterns, translucent materials, neon lights, iridescent finishes, shimmery metallics… SPECIAL EFFECTS presents patterns and surface treatments that appear to have been created over time by natural forces, or shaped by human hands, or the result of chemical reactions. Focus categories include LED lighting, decorative accessories, housewares, textiles, area rugs and upholstery. Bonus coverage: tech-inspired rainbow palettes.
"Our trend lens focuses on color, pattern, materials, and styles that illustrate the wants and needs of future-focused consumers and homeowners," FIRST LOOK curator and veteran magazine editor Julie Smith Vincenti of Nine Muses Media LLC explains. "Redefining family and work life, reprioritizing discretionary spending, and gift-giving and celebration without restrictions will be explored through two image-rich pre-market webinars and in four centrally-located, at-market vignettes."
FIRST LOOK brings the #LVMkt sourcing experience alive through the FIRST LOOK digital edition and two pre-show FIRST LOOK webinars which explore the trends and related products in greater detail: Wednesday, Aug. 4, 2021: FIRST LOOK - Summer 2021 Home Furnishings Webinar; and Tuesday, Aug. 10, 2021: FIRST LOOK - Summer 2021 Gift, Housewares, Textiles, and Tabletop Webinar. Both webinars begin at 1 p.m. (PST) and participants will receive .5 CEU credits. Registration is available at www.lasvegasmarket.com/Explore/Events-and-Seminars.
Buyers and suppliers can follow #FirstLookLVMkt leading up to and during market for timely updates and pictorials. At market, The FIRST LOOK themes will be on display in four centrally-located vignettes – a dining vignette, a family room/entryway scene and two themed installations in the EXPO at World Market Center Las Vegas.
Furniture, gift and home décor product submissions will be accepted from all Las Vegas Market exhibitors. To be considered for FIRST LOOK, exhibitors must submit digital imagery (measuring at least 5"x7" at 300 dpi) and a completed product description form by June 9 to Julia Roach at jroach@imcenters.com and Julie Smith Vincenti at julie@ninemusesmedia.com. Information and submission forms are available online at https://www.lasvegasmarket.com/Exhibit/Advertising-and-Sponsorship-Opportunities/Submit-to-First-Look.
Las Vegas Market is the leading home furnishings and gift market in the western U.S., presenting 4,300+ furniture, home décor and gift resources in an unrivaled market destination. Las Vegas Market features thousands of product lines, allowing for cross-category commerce among these industries. The next Las Vegas Market runs Aug. 22 – Aug. 26, 2021, at World Market Center Las Vegas. For more information, visit www.lasvegasmarket.com.
About International Market Centers: International Market Centers (IMC) serves as the center of commerce for the wholesale furniture, gift, home decor and apparel industries. With more than 20 million square feet of premium wholesale showroom space in High Point, N.C., Las Vegas and Atlanta, IMC has more than 60 years of relationships and experience creating scalable business platforms for wholesale commerce. With the launch of Juniper, a fully integrated omnichannel B2B commerce solution and multiline B2B e-commerce marketplace empowering buyers and sellers to better manage and grow their business at markets and year-round, IMC now provides the only omnichannel sales and marketing platform that seamlessly connects physical and digital wholesale commerce. For more information, visit www.imcenters.com.
###
Media Contacts:
Chelsea Peabody Bohannon, 404.220.2141 or cbohannon@imcenters.com