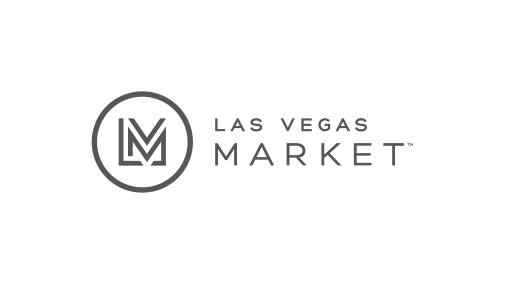 Interactive Winter 2023 Las Vegas Market Preview Available Now
LAS VEGAS – December 26, 2022 – Las Vegas Market has published the Winter 2023 edition of its Previewplanning guide as a nearly-200-page print magazine and interactive digital flipbook in the lead up to the January 29- February 2, 2023, buying event at World Market Center Las Vegas. Original content includes trend information, profiles of gift and design thought leaders, business advice, marketing planning information and more.
"The Winter 2023 Preview is an actionable planning guide for the cross-category sourcing only found at Las Vegas Market," said Dorothy Belshaw, International Market Centers (IMC) executive vice president, chief customer and marketing officer. "Compelling product images and comprehensive market information help buyers develop a market strategy while business-building advice from industry leaders helps them plan for success in 2023."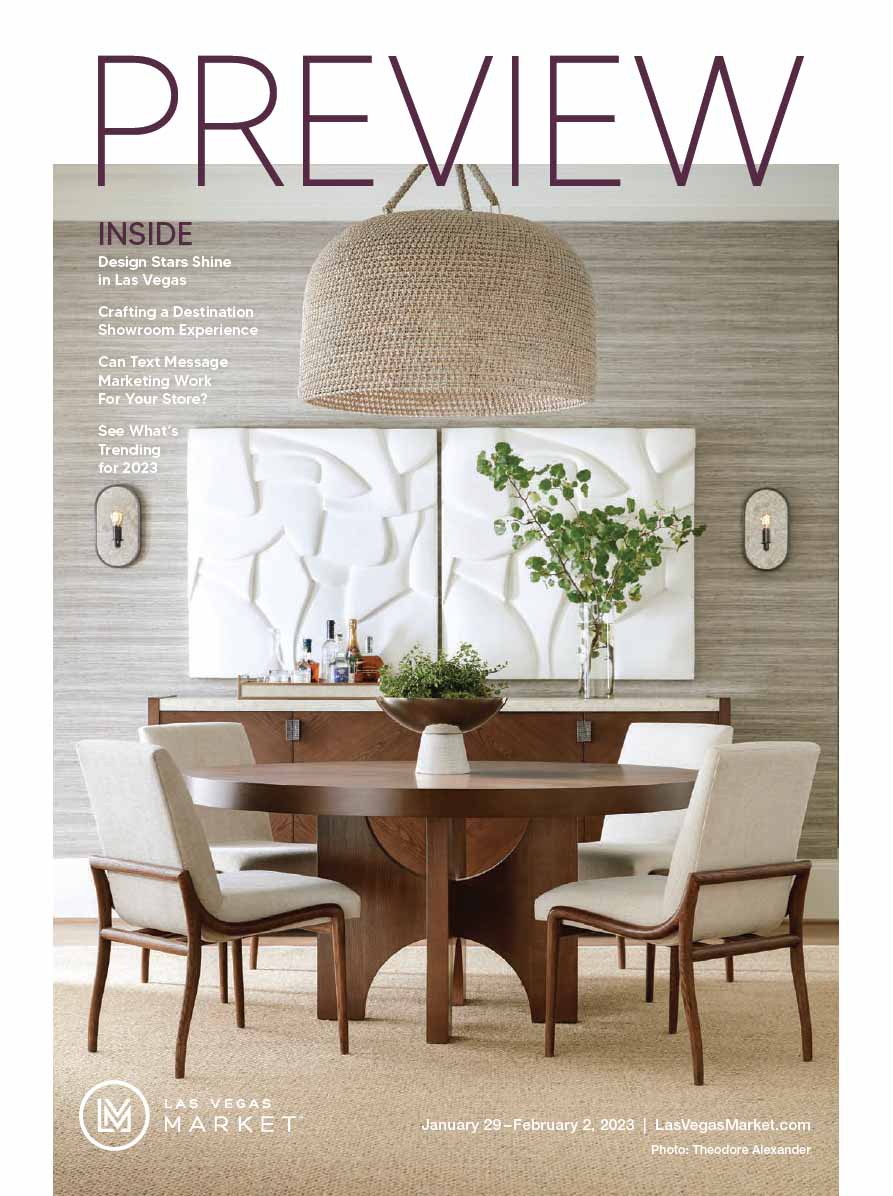 Trending product is a major element of the Winter 2023 Preview. New introductions are showcased in 12 pictorials highlighting the best of market across gift, home décor and furniture. For online readers, the spreads come to life by linking to videos and additional information about the categories. Examples of FIRST LOOK West trends Amplify, Nuance and Venture are featured as preparation for the proprietary trend program's webinar, at-market presentation and display. Buyers' favorite product from the Summer 2022 Las Vegas Market is showcased in a feature of Market Snapshot finalists.
Some five stories about tastemakers and thought leaders prepare buyers for what they will see and experience at market. Editors from LUXE Magazine share what they love about Las Vegas Market in "Design Matters." Lifestyle showroom principal Stephen Young is profiled in "Crafting a Destination Showroom Experience" as he opens his first Las Vegas Market showroom in Winter 2023. Designer Alex Woogman gives insights into his design ethos in "In Search of Purposeful Luxury" ahead of his market tour. WhizBang Retail Training Founder Bob Negan explores building relationships with customers in "Love Your Customers… and the Money Will Follow" as preparation for his two at-market sessions. Five of the Winter 2023 Market Pros are profiled before they take over the Las Vegas Market and Las Vegas Design Center (LVDC) social media pages.
Two articles explore best practices. Retailers Corey O'Loughlin and Nina Vitalino of Prep Obsessed in Florida explain how they use text messages to reach customers in "LMK If This Works." A pictorial of Winners of the 2022 ANDYZ Awards showcase the best interior designs in the West.
Practical Market planning tools in the Las Vegas Market Preview include primers on key destinations like the LVDC and temporary exhibits in the Expo and B2 plus the "Who, What, When, Where and Why" of Las Vegas Market, market information, an events calendar, a buying group listing and an exhibitor list. Additionally, a feature on IMC's JuniperMarket, "Score Your -Core Anytime," explores how to search for décor on the online marketplace. The Las Vegas Market Preview is just one of the many Las Vegas Market planning tools which includes the Las Vegas Market App, Market Resource Guide, Pocket Guide, EXPLORE – The Gift & Home Temporaries Magazine and the Las Vegas Market website.
The online version of the Winter 2022 Las Vegas Market Preview is at https://www.angstromcreative.com/digital/flipbooks/imc/lv/2023/winterpreview/#p=1
Las Vegas Market is the leading home furnishings and gift market in the western U.S., presenting thousands of furniture, home décor and gift resources in an unrivaled market destination. Las Vegas Market's diverse product offerings allow for cross-category commerce among these industries. The next Las Vegas Market runs January 29 – February 2, 2023, at World Market Center Las Vegas. Registration for the winter 2023 Las Vegas Market is open now at LasVegasMarket.com.
About International Market Centers: International Market Centers (IMC) serves as the center of commerce for the wholesale furniture, gift, home decor and apparel industries. With more than 20 million square feet of premium wholesale showroom space in High Point, N.C., Las Vegas and Atlanta, IMC has more than 60 years of relationships and experience creating scalable business platforms for wholesale commerce. With the launch of Juniper, a fully integrated omnichannel B2B commerce solution and multiline B2B e-commerce marketplace empowering buyers and sellers to better manage and grow their business at markets and year-round, IMC now provides the only omnichannel sales and marketing platform that seamlessly connects physical and digital wholesale commerce. IMCenters.com.
###
Media Contacts
Chelsea Peabody Bohannon, 404.220.2141 or cbohannon@imcenters.com
Cathy Steel, 203.340.9251 or cathysteel@cathysteelassociates.com
Tag:
Press Release
Winter 2023 Las Vegas Market