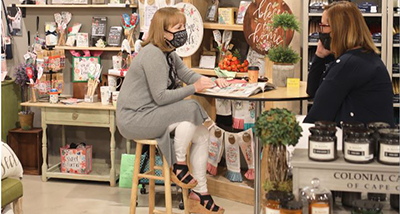 Las Vegas Market Primed to Help the Industry Get Back to Business
LAS VEGAS, N.V. – (November 4, 2020) – With a surge in consumer demand for home décor and home office furnishings during the COVID-19 pandemic and an expected increase in gift sales for the coming holiday season, the Winter 2021 Las Vegas Market is primed to offer West Coast retailers a platform to refresh inventories with new and best-selling product and for suppliers to meet new and returning buyers. Registration for Winter Market, which runs Jan. 24 – Jan. 28, 2020, is now open at LasVegasMarket.com.
"We're all ready to get back to business in Las Vegas in 2021," said Bob Maricich, IMC CEO. "Our customers, our buyers and our facilities – both existing and new – are prepared to come together again to jumpstart the West Coast's retail year."

At market, buyers will find a depth and breadth of new, innovative and best-selling products on a campus that features 4,300+ furniture, gift and home décor resources across three showroom buildings (A, B and C) and in the brand-new Expo at World Market Center Las Vegas. Within the showrooms, the market will feature more than 2,000 furniture lines on 31 floors, 2,000+ gift resources on seven floors in Building C and more than 500 home décor resources on 13 floors in Buildings A, B and C.

Winter 2021 Market marks the return of gift and home temporaries to Las Vegas Market following a Summer 2020 Market hiatus as well as the grand opening of the new Expo at World Market Center Las Vegas, the 315,000-square-foot facility that will house the temporary exhibits. The Expo will present hundreds of temporary gift and home exhibits in six updated destinations – Design, Gift, Handmade, Home, Immediate Delivery and Luxe -- with an exhibit floor layout adjusted for social distancing protocols, with wider and one-way aisles.

The Expo's contiguous alignment with Building C positions it as the gateway to the entire World Market Center campus allowing for a more seamless flow of traffic between the market's temporary exhibits and permanent showrooms. The Expo Lobby also provides one centrally located registration area for exhibitor and attendee badging and safety screenings, required as part of IMC's Together Safely protocols.

Beyond exhibits, Las Vegas Market's signature programming will be presented through digital market channels before and during market. Pre-market educational webinar topics include the market's proprietary FIRST LOOK program and a Virtual Showhouse as well as programs addressing business practices during and after the COVID-19 crisis, consumer preferences and current market trends. A schedule for coming live sessions, as well as a full catalog of previously recorded virtual programming is available through the Las Vegas Market website, at https://www.lasvegasmarket.com/plan/event-seminar-landing.

Other website features include robust product discovery through the Las Vegas Market Exhibitor Directory, with category, style and price point search filters. The website also links to 290+ Las Vegas Market exhibitors active on ShopZio, a B2B ecommerce platform powered by IMC_di (IMC's Digital Innovations division), which allows buyers to shop before, during and after market. On campus, marketgoers can utilize the Las Vegas Market app to access the Exhibitor Directory as well as wayfinding and market planning tools.

"While our Summer 2020 Market was smaller than usual, almost 30% of our attendees were first-time visitors to Las Vegas Market, which generated a significant new business opportunity for our tenants," Maricich added. "IMC has safely produced eight markets since June and with each successful show our industry takes another step forward. Buyers and sellers are eager to reconnect, and we look forward to welcoming them back our Las Vegas campus in January."

Dates for 2021 Winter Market are Sunday, Jan. 24, through Thursday, Jan. 28, with staggered show hours as follows:

Permanent Showrooms
• Jan. 24 – Jan. 27 - 8 a.m. – 6 p.m.
• Jan. 28 – 8 a.m. – 4 p.m.

Gift and Home Temporaries in the Expo
• Jan. 24 – Jan. 26, 9 a.m. – 6 p.m.
• Jan. 27, 9 a.m. – 4 p.m.

B2: Home Furnishings Temporaries
• Jan. 24 – Jan. 27, 9 a.m. – 6 p.m.
• Jan. 28, 9 a.m. – 2 p.m.

Las Vegas Market is the leading home furnishings and gift market in the western U.S., presenting 4,300+ furniture, home décor and gift resources in an unrivaled market destination. Las Vegas Market features thousands of furniture, home décor and gift lines, allowing for cross-category commerce among these industries. Winter 2021 Las Vegas Market runs Jan. 24 – Jan. 28, 2021, at World Market Center Las Vegas. For more information, visit www.lasvegasmarket.com.

About International Market Centers:
International Market Centers (IMC) serves as the center of commerce for the furniture, gift, home decor and apparel industries, bringing buyers and sellers from all over the world together through physical markets in Atlanta, High Point and Las Vegas. With the launch of the IMC_Digital Innovations division in January 2020, IMC offers the premier omnichannel solution for the home, gift and apparel industries that seamlessly connects physical and digital wholesale commerce. For more information on IMC, visit http://imcenters.com.
Press Contact:
Dallas Britt, (336) 821-1507
dbritt@imcenters.com
Cathy Steel, (203) 340-9251
cathysteel@cathysteelassociates.com
Tag:
Winter 2021 Las Vegas Market
Market Planning
Las Vegas Market
Press Release