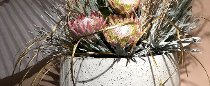 Touring the Trends from the Pacific Northwest
Alaskan interior design duo, Jeremy Bauer and Jason Clifton are checking back in after a productive buying trip to Las Vegas Market. As joint owners of Bauer/Clifton Interiors and Frenchie's Floral Studio, they use this market experience to purchase one-of-a-kind home accents that will make an impact back home in the Pacific Northwest. Follow along for highlights from their guided Touring of the Trends.
Now that we're back to the daily grind in Juneau, we're envisioning how products that we spotted during our trip will find a special home in new projects currently in the works.
Special thanks to our trusted vendors for providing product that is innovative, trustworthy, and helps us stand out as both designers and business owners. The vendors we selected stood out during Las Vegas Market as they continue to offer an abundance of product variety to choose from, no matter your (or your client's) preferred style. From season-to-season their product will continue to uphold quality, while staying at the forefront of up and coming trends.
Vendor Spotlight
Hudson Valley
Always a gem, Hudson Valley did not disappoint, and we loved touring their new showrooms! Masters at balancing classic features with current trends, we found lighting options for all of our current projects! Of course, we were also drawn to the whimsy of Martin Lawrence Bullard's newest collection too!

Accent Decor
Another go-to showroom of ours, Accent Decor never fails to provide us with an abundance of design inspiration. As floral enthusiasts, we've always been impressed with the vast collections Accent Décor offers to ensure our arrangements are always ahead of trends! They're also a great resource for holiday décor and our special events designs too!
Wendover Art
What a dream it was to wander through Wendover's dazzling gallery. We can always count on finding some unique color combos and patterns, and this time we were honored to have seen Christopher Kennedy as he showed off his fantastic new collection.
Jeremy Bauer & Jason Clifton
Bauer and Clifton work with clients to create a master plan for beautiful, functional spaces, which may be approached at once or in phases. They understand the unique needs of residential, commercial and hospitality clients, as demonstrated in their portfolio. With Projects to date in Alaska, across the Pacific Northwest, and on to Palm Springs, BCI continues to grow and expand their business throughout the nation. The pair loves to take on a great challenge and is enthusiastic to see what adventures and journeys each new project will lead them on.
Tag:
Summer 2019 Las Vegas Market
Designer
Blog Post