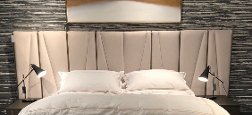 Spotted on Social: Next Season's Trends
What a warm and wonderful week we shared this summer at Las Vegas Market. So many beautiful things to see and inspire our work and each other toward the creation of high design in our clients' homes.
Four distinct trends emerged from tastemaker contributions to the Instagram Takeover page of Las Vegas Market: Statement Consoles, Rocks and Fossils, Earthy Rugs, and Soft Touch Upholstery.
As designers, we know that consoles are often the first thing you see when entering a home. They are also a way we add form and interest to compensate for a giant wall TV. Furniture manufacturers have taken notice and have provided options from rustic wood to contemporary glam in an effort to suit any home's aesthetic.
Four Hands, A140
Denise Morrison Interiors, @dminteriors found a piece reminiscent of the height of Art Deco, with sensual curves and stunning wood grain at Four Hands, @fourhandsfurniture.

Oly Studio, C596D
Lisa Kahn, @LisaKahnDesigns spotted the Serena console at Oly Studio, @oly.studio. The metal doors and bleached wood cabinet make it the perfect piece to bridge rustic and contemporary or beachy and industrial.
Dovetail Furniture, B159
Nicole Salceda, @eyeforpretty, found a warm earthy wood console perfect for mixing wood tones in a space at Dovetail Furniture, @dovetailfurniture.
Modus Furniture, B570
Monica Wilcox, @mwilcoxdesign, went for the more glamorous end of the spectrum with a black lacquer ribbed console with brushed gold drawer hardware. Perfect for a Vegas inspired space. You may find it at Modus Furniture.
A return to earthy elements in an attempt to re-connect us to the things that ground us and bring us energy from the natural world was a particularly strong influence this market. Rocks and fossils were incorporated into visually powerful pieces for the wall, dining, and general decor in innovative ways that at once calm and elevate us in our spaces.
Kiss That Frog, C140
Hilde Leiaghat, @pompomathome immediately spotted handcrafted oyster servers made in Thailand for @kiss_that_frog. Certainly objects of beauty that bring the ocean to the table in a charming way.

Phillips Collection, A202
Veronica Ferro, @VFInterior saw something spectacular at Phillips Collection, @phillipsco. Slices of semi-precious gems used for wall decor which create a collage of wonder in an entry or niche with a riot of color and visual interest.
PALECEK, C498
Marie Flanigan, @marieflaniganinteriors fell for the fossilized clam shell dining table from PALECEK, @palecekdesign. Handcrafted from material found in the Philippines, the classic table is inspired by the iconic tulip table, but possesses and almost ethereal quality with the shapes and colors of the clams in the slab table top.
Jamie Young Company, C460
Stephany Holdaway, @gatehouseno1 was spellbound by the Kaleidescope mirror found at Jamie Young Company, @jamieyoungco. The frame is created using photos of agate bisections and trimmed in a lustrous gold leaf for an extra special finishing detail.
Mixing glamourous materials like agate and gold hardware with earthy, chunky textured rugs work to prevent a room from feeling "too precious" or untouchable. Enter a whole new world of spectacular rugs that have emerged as a standard for layering and softening our interiors.
Indaba Trading shown by Ivystone, C696
Jannicke Ramso, @tinylittlepads found a rug so soft she could've sworn it was a blanket. Found at the @ivystonesocial showroom, the Indaba Trading, @indabatradingco blanket rug would be perfect for a family room where children are apt to lounge around on the floor playing with legos or watching their favorite shows.
Unique Loom, B424
Mikel Welch, @mikelwelch couldn't resist his friend, Sabrina Soto's new outdoor rug collection for Unique Loom, @unique.loom. A smart choice for outdoor certainly, but also practical for indoor applications such as under a dining table or in high traffic areas where the tribal influenced collection will demonstrate its hardiness.
Akara Rugs, C368
Marie Flanigan, @marieflaniganinteriors thought that the 100% rich wool rug textures of Akara Rugs, @akara_rugs, were mention worthy. Wide weaves and rich, a thick hand make them a standout.
Loloi Rugs, B480
Shay Geyer, @designershay spotted Loloi Rugs', @loloirugs, new wall decor. Citing the trend, #layeredtexture in her selection, Shay loved the way the new framed pieces bring warmth and wovens to our vertical visual experience, inviting us to try the pieces in a gallery wall arrangement.
The "hand" of all of these new weaves and textures is critical to the feeling of softness and serenity we work to create in our clients' homes, and what better way to install a plush texture than the use of velvet and fur in upholstery? With all of the new performance fabrics like Crypton and Revolution, velvets are now both pretty and practical, and they're used all over the house.
Sunpan, B700
Veronica Ferro, @VFInterior was enchanted by the channel upholstered Gayla Bed. Accented with brass extrusions, it makes a glamorous Art Deco statement while retaining an edgy feel through the use of contemporary materials. Find it at Sunpan, @sunpan.
Eastern Accents, A130
Jeremy Bauer and Jason Clifton, @bauerclifton_interiors, found a dandy vignette to connect with, demonstrating their approval of the new velvet upholstery movement: a beautiful bed from Eastern Accents, @easternaccents, which perfectly pairs with Jeremy's outfit of the day for extra design emphasis. The natural themes and layered textures come together beautifully, demonstrating how effective the employ of the four themes can be when executed with skill.
Noir Furniture, C399
Hilde Leiaghat @pompomathome thought that the combination of clean white wood and shaggy sheepskin made the perfect pairing for a modern feel at CFC by Noir Furniture, @noirfurniture.
Kim Salmela for Norwalk, A214
Kathy Wall, @kathydwall @tmm.agency loved the new upholstery seating options from Norwalk Furniture, @norwalkfurniture, designed by Kim Salmela, @kimsalmela. The combination of plush textures and plinth bases make the look decidedly modern while providing the perfect "sit" for homeowners to enjoy.
We hope you've enjoyed our Trend Report from this year's Summer Market. Can't wait to get back in January to see how each element plays out and interacts with style innovations headed our direction in the New Year.
Wendy Glaister
From childhood, Wendy was taught to use an artist's eye for beauty, composition, color, and scale. She brings a discerning eye to each project, fusing practicality and playfulness, translating her client's personality and tastes with graceful function and ease, and carefully selecting the moments in each space that will make the room and lend cohesion to the home. Her collaborative approach with contractors and craftspeople encourages each member of the team to bring their very best. Her gift is something special, intuitive and kind, that her clients affirm, and her work proves undeniable.


Most recently published in Traditional Home.com, Modern Luxury Interiors, 209 Magazine, Real Simple, Stanislaus Magazine, Food and Wine, Furniture Lighting and Decor, and Contentment Health, Wendy's design portfolio continues to gain attention throughout the region. Recent projects have been featured in national campaigns for Vadara Quartz, Dekton by Cosentino and Brizo. She was recently named as one of the Top 50 Interior Designers in California by Brightech and has been awarded "Best of Houzz" for Service five years running. Her effervescent personality and approachable humor make her a natural for TV and Video engagements and as a contributor to Good Day Sacramento, the local CBS morning show.
Tag:
Summer 2019 Las Vegas Market
Designer
Blog Post