Selling to (and Employing) Millennials
Millennials, an oft-misunderstood demographic. What defines the typical consumer? What's different about how they shop? Most importantly, how do you position your store and products accordingly? Millennials make technology-based buying decisions, prefer a simple and unencumbered lifestyle, respond when experience trumps product. Become #THEstore with these helpful learnings:
RETAIL AS AN "EXPERIENCE":
• People seek experiences: evidenced by malls closing, brick & mortar shrinking
o Competitive advantage is excellence in customer service
• Keep everything fresh and new to engage customers by store / with product
o Host events and change displays so same product looks different
• Tell the story of the product; tie purchases to a cause/purpose/mission
o Seek experiential merchandise that is well made and long lasting
o Often attached to the story behind a product above the price
• These customers seek very instant gratification, right now, this minute
o Drone and GPS technologies are coming for instant delivery!
ALWAYS DOCUMENT WITH PHOTOS:
• Millennial shoppers always taking pictures; documenting life through photos
o Cell cameras always ready to share; is your store capture-worthy?
o Create "Insta-friendly" photo op area to encourage shares, posts, tags
• Zoos "enrichment project:" customers purchase toys with which animals play
o Team then take and send photos to customers for an experience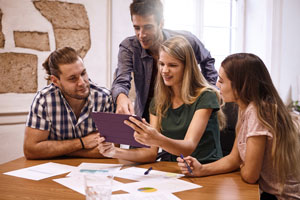 PRODUCTS THAT RESONATE:
• Willing to spend more money on items that last (as opposed to buying cheap)
o Not necessarily checking prices but just purchase the things they love
• Tend to shy away from an overwhelming amount of choices
o Do not want multiple color and style options for an item
• Probably avoid technology (Amazon), calendars (on phone) and music (various
platforms) altogether, to not compete with well-established sources
o Stock items they cannot find on Amazon or anywhere else
o Purchase items that are locally made or made in the USA
• "Making it mine" popular: patches and pins on backpack, jacket, purses
o Stocking more apparel with big pictures, graphics, scenes
• Don't sell"dust collectors;" are minimalists that don't want a bunch of "stuff"
o EX: figurines, thimbles, spoons, postcards, souvenir mugs, shot glasses
SUCCESSFULLY EMPLOY MILLENNIALS:
• Retain fun, positive work environment, so they enjoy the "experience" of work
o Need hear positive reinforcement, compliments, instant feedback
• Millennials need believe in / feel part of the mission, "be in line with my values"
o Want to contribute in a meaningful way
o Give real responsibilities, not just busy work
• Be SO flexible with staffing, and adapt accordingly
o Happy working fewer hours, will not arrive to work even a minute early
• Change dress codes: tattoos, piercings and dyed hair are now acceptable
o No longer take phones away from selling floor
And after Millennials?
Gen Z and Gen Alpha are next. Technology is rapidly evolving, as is how these generations are educated. They will be the most educated people in world history. Consider: what jobs will they work? Who will staff the stores? While previous generations were driven by the most appealing in-store experience, the shopping experience of Gen Z consists of a few clicks on a mobile device. Are you ready?
Las Vegas Market would like to thank its participating writers for the valuable insight!
Thank you moderator Melinda Greene, Kansas City Zoo (ZAG) & discussion leaders:
• Melody Caban, Amon Carter Museum of American Art; MSA Next
• Brandan Johnson, Henry Vilas Park Zoo; ZAG
• Karli Stroh, Integris Health; AHVRP
• Heather Barnes, Intermountain The Orthopedic Specialty Hospital; AHVRP
• Kaitlyn Bailey, John Ball Zoo; ZAG
• Michael Balbone, Perez Art Museum Miami; MSA Next
• Kate Botelho, Preservation Society of Newport County; MSA Next
• Sally Miller, UH Ahuja Medical Center; AHVRP
• Aubrey Herr, Walters Art Museum; MSA Next
Tag:
Winter 2020 Las Vegas Market
Retailer
Blog Post