First Look Summer 2019: Gifts for Her
Las Vegas Market offers an impressive array of gifts for every woman on the list, so "gifts for her" are rightly featured in this season's new FIRST LOOK product displays. Attendees will find best examples in both the Building C, 4th Floor, presentation and the new Pavilions 1 display, July 28-Aug. 1.
Looking for a small gift or sentiment? Consider the charming Ornament soaps from European Soaps. These petite pleasers are wrapped in holiday paper, accented with a gift tag and snowflake ornament, and have a cord for hanging on the tree or topping a package. Choose from three fragrances: Frosted Forest, Winter Berry and Falling Snow.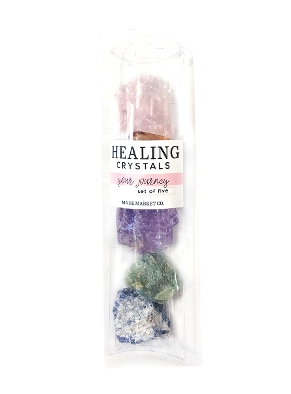 Compendium's new Love Muchly line of greeting cards present hand-drawn illustrations alongside sincere sentiments about relationships. Ditto the company's Here & There inspirational art series … these lightweight, uplifting signs feature a graphic printed on 100 percent FSC®-certified wood.
Send five meaningful messages in one with Made Market Co.'s Healing Crystals. This attractively packaged 5-pack — available in raw-cut or polished stones — comes with Rose Quartz for love and harmony; Amethyst for inner strength and peace; Amazonite for calm thoughts and change; Citrine for pure happiness and energy; and Sodalite for self-esteem and clarity. The packaging includes an explanatory diagram.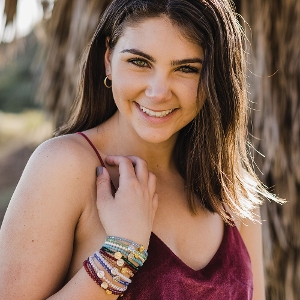 Soothing stones headline in Lotus Jewelry Studio's new earrings. The handmade Bygone earrings feature Mystic Jasper stones in a choice of sterling silver or gold.
Symbols suggesting "Ambitious" and "Determined" are stamped into the 14-karat-gold-plated Personality cuffs from Pieces of Me. My Saint My Hero's Birthday Blessings bracelets, meanwhile, offer Swarovski gems or beads that match birthstone colors.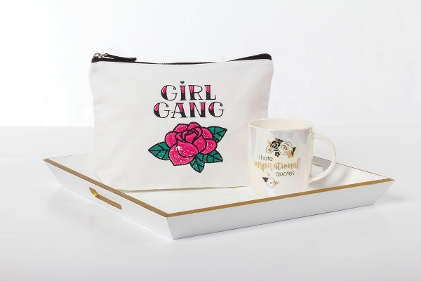 When more edge creates the right mood, consider gifts from Wit!. The company's new cotton canvas makeup bag with easy-to-clean lining is "tattooed" with the words, "Girl Gang." Or, check out the new hand-finished Iridescent mug in black and gold — it's packaged in a gift-ready box and declares: "I hate inspirational quotes."
In addition to gifts for her, other featured categories in FIRST LOOK include: baby/youth, tween, holiday, stationery, personal accessories and personal care. Attend the FIRST LOOK seminar on Monday, July 29, at 10 a.m. in Building B, WorldView on Sixteen, for even more coverage of gifts at Las Vegas Market.
Want a custom viewing of this season's displays? Consider one or both of this summer's tours led by First Look editor Julie Smith Vincenti. Register in advance for the Home Furnishings edition, which begins Monday, Jan. 28, at 1:30 p.m. The Gift & Lifestyle installment commences Tuesday, Jan. 29, at 10:30 a.m. Register today!
Tag:
FIRST LOOK
Summer 2019 Las Vegas Market
Designer
Retailer
Blog Post