FIRST LOOK Winter 2019: ADORN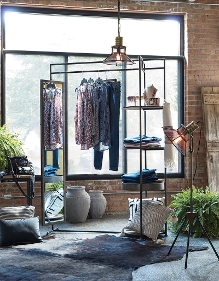 Personal accessories, stationery, candles, and scene-enhancing softgoods headline in ADORN, one of four vignettes in the Winter 2019 installment of FIRST LOOK. See the display in the Grand Plaza Courtyard Jan. 27-31 alongside ARCTIC, a nod to oceanic blues; FIESTA, a sun-soaked show of outdoor furnishings and accessories; and DESERTSCAPE, a pattern-packed presentation of casual comfort.
First up: ADORN showcases top-performing brands, market newcomers, new products and proven lines in a boutique-like setting; Melrose International's new étagère sets the stage. At six feet high, it's an instant focal point in a retail setting. A mirror, a hanging bar, and a three-tier shelving tower accommodate a range of personal accessories, apparel and jewelry, especially the gift-ready variety.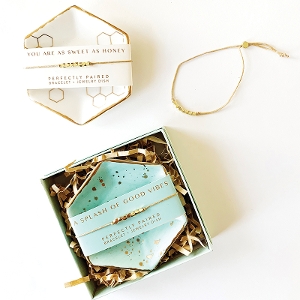 Lucky Feather's new bracelet-and-trinket-tray duo is a best example of the latter. A ceramic dish is tastefully packaged with a 14-karat-gold-dipped beaded bracelet. Lotus Jewelry Studio's handcrafted Birthstone Collection, meanwhile, offers simple, yet elegant, rings and earrings (in either sterling silver or gold vermeil) that are displayed on a 2-inch-wide letterpress printed card.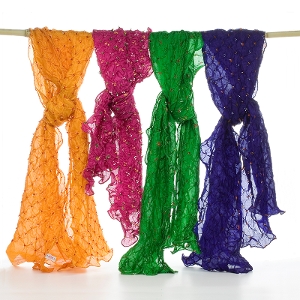 Handcrafted products are featured elsewhere in the ADORN vignette; one example celebrates the art of Indian tie-dye, or bandhni. Each dot on Indika's brightly colored scarves starts out as a hand-tied knot, a technique that creates both texture and relaxed drape. Another example: Vintage Addiction's new roomy tote bags are made by hand from recycled canvas.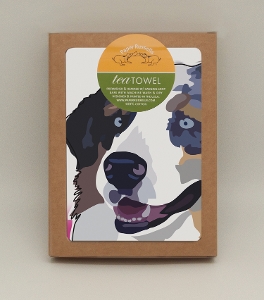 Spot both youth accessories and pet-themed products in ADORN, including charming wood toys from market newcomer Tender Leaf Toys, and super-size tea towels featuring cat or dog portraits from Paper Russells.
In addition to the at-market displays, this season's First Look program includes a 40-page publication filled with new products, a CEU-accredited seminar led by FIRST LOOK Editor Julie Smith Vincenti on Monday, Jan. 28, at 10 a.m. in WorldView on Sixteen, Building B, and two new showroom tours that follow two category tracks — choose the home furnishings-focused session Monday, Jan. 28, from 1:30 p.m.-2:30 p.m., or the gifts/seasonal track Tuesday, Jan. 29, from 10:30 a.m.-11:30 a.m.
Take Note

Identify products around market in-line with any of the four First Look Trends for the opportunity to win a trip to Las Vegas Market this summer. Entering is as easy as 1, 2, 3:
1) Snap a photo of the product
2) Identify which First Look trend it falls under and share why
3) Post it on Instagram using #FirstLookLVMkt
A winner will be selected to win airfare and two free nights of hotel for 2019 Summer Market.
Tag:
FIRST LOOK
Winter 2019 Las Vegas Market
Blog Post