Design Icon Retrospective with Larry Laslo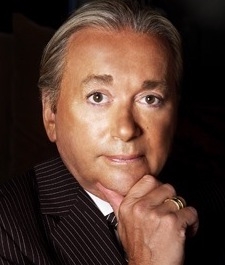 Larry Laslo is known throughout the design world as an inveterate arbiter of style – creating extraordinarily luxurious interior landscapes. What sets his work apart is not only a sumptuous echo of old world glamour in strikingly modern settings; but an infectious sense of fun that turns the most elegant of rooms into warm, inviting and personal homes. He takes his inspiration from the world around him and translates these appealing hues and original angles into a new definition of "timeless refinement." Laslo's singular interiors that have graced the editorial pages of Architectural Digest, The New York Times, House & Garden, Vogue, Elle Décor, Vanity Fair, Town & Country, Veranda and W; while his Manhattan home was featured in Elle Décor and HGTV's Top 10 Living Rooms.
The evolution of your career is fascinating. Can you elaborate on how you got started in the industry and expanded from your home base to major projects across the world?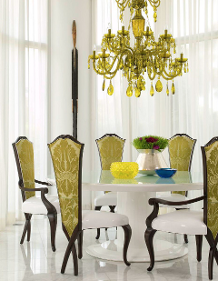 I really began my career as a fashion illustrator and painter. I worked for magazines such as Vogue, Harper's Bazaar, Fashions of the New York Times, Gentleman's Quarterly and did celebrity portraits for Photoplay Magazine. Suddenly Bergdorf Goodman hired me in 1978 to for a much needed makeover. It is sufficient to say that it was a daunting task to do all eight floors including the windows. It did include wonderful trips to Europe. I met every major designer from Karl Lagerfeld, the Fendi sisters, Giorgio Armani to Geoffrey Beene. Can you imagine how excited I was when Yves Saint Laurent invited me to his home? My jaw literally dropped. It was everything I ever loved in design. Takashimaya and all the rest came later. Kips bay, furniture, fabric, lighting, accessories and more residential clients then I could handle was to follow. I was a 30 year old in absolute design heaven.
You are a true innovator in design and decorating. In creating a lasting legacy in design, what's been your underlying philosophy or ethos that has guided you throughout your career? How does your inner voice shape your design vision?
My entire life guides me. I've trained my eye to be more discerning and I am constantly evolving.
Like fashion, you've seen trends come and go, and many things that were old are new again, evidenced with the revival of so many great eras in design from deco to mid-century and more. What would you say are the "forever classics" that continue to have an important place, decade after decade, in design?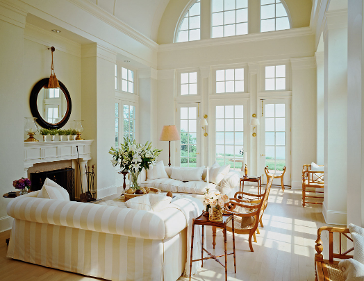 My spaces have their own energies. I am constantly influenced by Jean-Michel Frank, Elsie de Wolfe Mendl, Vladimir Kagan, Gio Ponti and all too many to mention from the 20th century. My go-tos are always trendy or classic. Leopard skin, gold leaf, all metallics, white plaster and sumptuous velvets. Luxurious but never too over the top. They are always clean. The rooms are high contrast with period pieces, art and flowers but not on patterns, I like my flowers in water.
You have been very successful as a furniture designer. Do you remember the first piece of furniture you designed and was furniture design part of your plan when you began your career designing interiors?

The first piece was a large console table for the Fendi sisters in their boutique. I had no idea I would continue in furniture until my pieces were seen in Takashimaya, the store I designed in the 90s. Directional hired me along with Vladimir Kagan and the ball started rolling and kept rolling.
Do you think certain rooms affect mood and quality of life more than others? And because people's aesthetic may be different, is there a universal language or feeling that such rooms should evoke?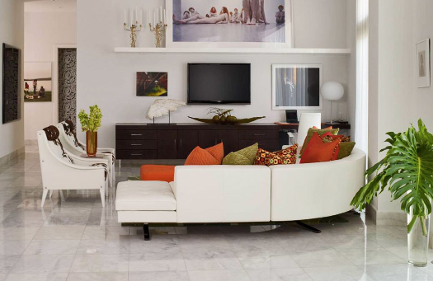 Yes there is a universal language, I think its serenity, comfort, soothing or exciting colors and a few small surprises to allow one to know who resides there.
Where are the greatest sources you draw for your inspiration?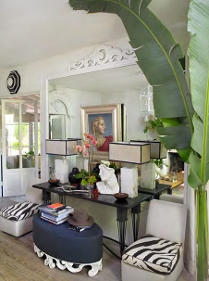 The decades from the 1920s to 1990s as well as 10th Street, Holly Hunt, Kravet, and the Paris Flea Market. Actually all of Paris. However I've found many inspirations in the small towns of America. The search is never ended.
What are some of your secrets to "working" market? Do you divide your time between favorite suppliers and discovery equally? How important are markets to your design business, and how often do you, or your staff, attend them?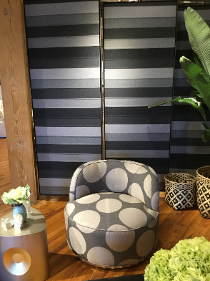 I don't think much about how I divide my time. There are so many things pulling at your coat tails that I do what I must and work hard. Markets are essential to my design business. There are far too many in the world to attend but needless to say, I attend the ones I am showing at and the ones with the newest and most exciting ideas like Art Basel, Design Miami, Maison et Objet, the Piers in New York and of course the Las Vegas Market.
Finally, how do you attribute your success from taking your interior design skill set to a national brand? What advice do you have for designers looking to achieve that kind of pinnacle of success, where they have the opportunity to work with brands to license their designs, and become a published designer/author?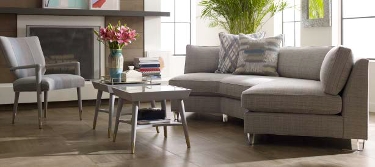 Again, I work very hard and long hours and everything around me can give me inspiration. I would also advise anyone starting out to apprentice with an important designer, even if all you are doing is bringing coffee and doing errands.
Join us on Tuesday, January 29 at Winter Market as we welcome our Design Icon recipients from the past, in a retrospective look at the design industry over the last decade. Iconic designers include Timothy Corrigan, Roger Thomas, Larry Laslo, Christopher Guy Harrison and Vladimir Kagan, represented by Christopher Eitel, Director of Design and Production at Vladimir Kagan Design Group. (0.1 CEU)
Tag:
Design Icon
Winter 2019 Las Vegas Market
Designer
Blog Post