FIRST LOOK Winter 2019: DESERTSCAPE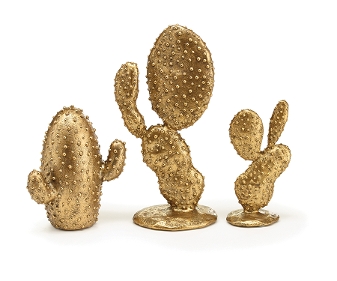 Landscape and lifestyle, and pattern and motif fuse in DESERTSCAPE, one of four themes showcased in Las Vegas Market's exclusive First Look program. Find best-of-show examples Jan. 27-31 in the Grand Plaza Courtyard displays, as well as a new First Look vignette to be located near the Building B seminar room, WorldView on Sixteen.
Distressed woods; leather upholstery; animal motifs; and familiar, yet modernized, patterns will feature prominently in DESERTSCAPE; hues from a new Sherwin-Williams palette, Wanderer, meanwhile, will provide a backdrop — look for the brand's 2019 Color of Year, Cavern Clay SW7701, as well as Moth Wing W9174, Caramelized SW9186, and Dark Clove SW9183.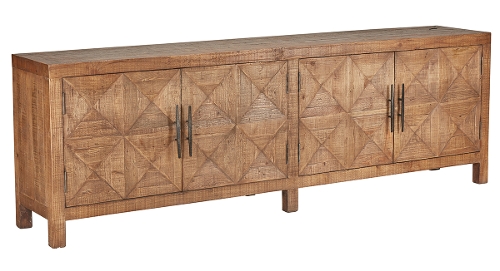 Classic Home's spacious Elani four-door sideboard will headline in DESERTSCAPE. It's crafted from reclaimed pine that forms an appealing checkerboard pattern on the door fronts. The 104-inch-wide piece provides ample surface for accessories display, and it opens to reveal generous storage space — it's a shoo-in for an airy, open entryway or a relaxed dining space.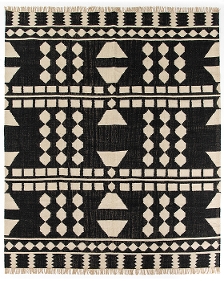 Textiles provide pattern cues in DESERTSCAPE — look for refreshed variations of both American Southwest and Scandinavian-inspired designs. Examples from both regions are mixed and mashed up, and recast in new colors, for broad stylistic appeal. Four Hands' Argus Block Pattern area rug is a noteworthy example. Spot Bashian's shimmery Terrain area rugs, which are loomed by hand from fine wool and viscose, in the First Look display this winter — here, the color story is soothing grays, blues and yellows.
Look for familiar motifs in DESERTSCAPE — cacti come to mind, of course — as well as animal motifs and iconography that infuse a rugged vibe. The combination underscores both the harsh beauty of desert landscapes alongside the comforts of a mountain lodge.
In addition to the at-market displays, this season's First Look program includes a 40-page publication filled with new products, a CEU-accredited seminar led by First Look Editor Julie Smith Vincenti on Monday, Jan. 28, at 10 a.m. in WorldView on Sixteen, Building B, and two new showroom tours that follow two category tracks — choose the home furnishings-focused session Monday, Jan. 28, from 1:30 p.m.-2:30 p.m., or the gifts/seasonal track Tuesday, Jan. 29, from 10:30 a.m.-11:30 a.m.
Take Note

Identify products around market in-line with any of the four First Look Trends for the opportunity to win a trip to Las Vegas Market this summer. Entering is as easy as 1, 2, 3:
1) Snap a photo of the product
2) Identify which First Look trend it falls under and share why
3) Post it on Instagram using #FirstLookLVMkt
A winner will be selected to win airfare and two free nights of hotel for 2019 Summer Market.
Tag:
FIRST LOOK
Winter 2019 Las Vegas Market
Blog Post