Design Icon Retrospective with Timothy Corrigan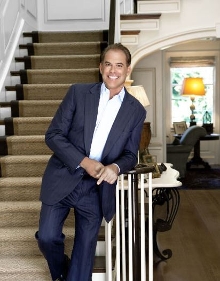 With offices in Paris and Los Angeles, Timothy Corrigan's timeless design philosophy combines European elegance with California comfort. He has been hailed in Architectural Digest as "Today's Tastemaker" and has been named to most of the design world's best designer lists, including the AD100, Elle Decor A-List, Robb Report's Top 40, and the Luxe Gold List. He has received numerous honors including the Institute of Classical Architecture So-Cal Legacy Award, The Design Icon Award, and the Star of Design Award. Timothy is the only American designer honored by the French Heritage Society for his restoration of several national landmarks in France.
The evolution of your career is fascinating. Can you elaborate on how you got started in the industry and expanded from your home base to major projects across the world?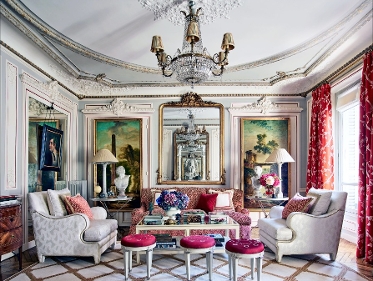 I started by doing what I love…after working for a number of years in another industry, I finally decided to follow my passion and make the move into design. It is so important for everyone to listen to that small inner voice that is urging us to try new things. We are extremely lucky to have projects around the world because it always opens your mind to how different styles and colors work differently in other places. I hear more and more about designers working in projects all around the world and I strongly encourage people to take on that challenge. You grow so much through the experience…both personally and professionally.
You are a true innovator in design and decorating. In creating a lasting legacy in design, what's been your underlying philosophy or ethos that has guided you throughout your career? How does your inner voice shape your design vision?
I recently received the Legacy Award from the Institute for Classical Art and Architecture and that prompted me to really stop and think about the concept of legacy in design. Finally, what I figured out for myself is that I want to leave behind is a legacy of both great design, but equally importantly, a legacy of professionalism and training of young talent. I have come to see that good design DOES impact the way that we live and feel about ourselves. I believe that we owe it to our clients (and ultimately to ourselves as a designer) to always try to push your self and not do the same thing or use the same things from one project to another.
Like fashion, you've seen trends come and go, and many things that were old are new again, evidenced with the revival of so many great eras in design from deco to mid-century and more. What would you say are the "forever classics" that continue to have an important place, decade after decade, in design?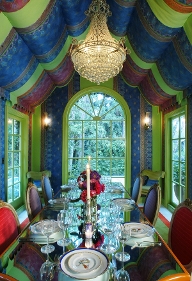 Absolutely everything is on a pendulum progressing from one extreme to another. Sometimes when you get too close it can be difficult to see that inevitable swing, In design it is very clear that we have shifted away from extreme minimalism and are currently at the mid-point of boho chic. It is only a matter of a year or two before we shift towards a greater sense of classicism and then shift on to exuberant maximalism. Like it or not, history does repeat itself. For me, the "forever classic" is all about getting scale and proportion right…whether it be in a piece of furniture or an entire room. When you get that right, it always looks better…regardless of the style.
You have been very successful as a furniture designer. Do you remember the first piece of furniture you designed and was furniture design part of your plan when you began your career designing interiors?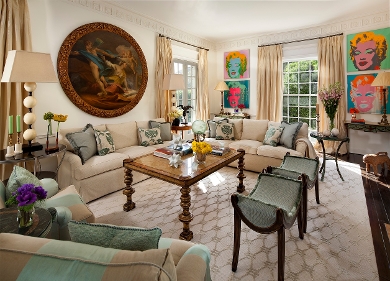 I actually started designing furniture because I couldn't find a piece that we were looking for: an ottoman coffee table that seamlessly transitioned to a hard surface so that you didn't have to worry about having a tray to steady things on it. It took a lot of trial and error to get that piece right and it was through that process that I realized how much I like designing furniture and other products. Now, I would say that I get some of my greatest satisfaction from designing products with some of the worlds best brands.
Do you think certain rooms affect mood and quality of life more than others? And because people's aesthetic may be different, is there a universal language or feeling that such rooms should evoke?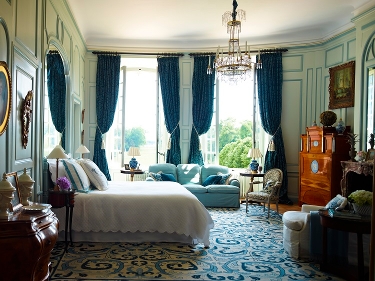 I think that there are two things that most affect how you experience a room, the first is COLOR.I love the look of an all white or neutral room, but after spending some time in that kind of space, I cannot help but think that they are somewhat soulless. Throughout the rest of the world, people truly embrace color and I think that American's have an almost innate fear of color; they are afraid that it will be "too much" or that they will get it "wrong." Color directly impacts how you feel in a space and I encourage people to use color to help create the mood that they want for that space. The second thing that is a kind of universal language is the mix of soft and hard surfaces in a space: both are needed and one balances the other. Clients are always so shocked to see how a rug and curtains can totally transform a space and make it feel right.
Where are the greatest sources you draw for your inspiration?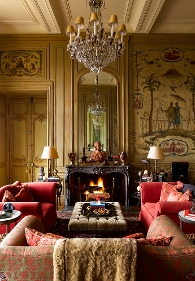 I used to say that travel provided most of my inspiration, but I would say that it has shifted now from experiential to knowledge-based inspiration. Whether it comes from books, exhibits, lectures, or the Internet, I find that I want to go deeper and learn more than just the surface level that is presented in an image. Pinterest and Instagram are wonderful, but finally they have no depth, substance or context. In order to really provide the inspiration for creativity, it is important to understand all of the background that lead up to its creation.
What are some of your secrets to "working" market? Do you divide your time between favorite suppliers and discovery equally? How important are markets to your design business, and how often do you, or your staff, attend them?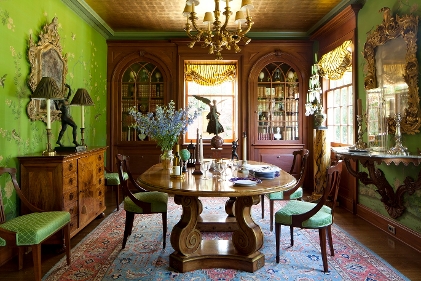 I always try to do a little homework first to see who is exhibiting at market and make my list of which I already know and want to visit. I use that as the "road map" for where I need to go, but I keep my eyes open as I am walking to find new discoveries. I always try to come away from market with at least a handful of wonderful new resources. With clients finding things on-line, it is every designer's responsibility to stay ahead of the curve and find new resources before our clients do!
Finally, how do you attribute your success from taking your interior design skill set to a national brand? What advice do you have for designers looking to achieve that kind of pinnacle of success, where they have the opportunity to work with brands to license their designs, and become a published designer/author?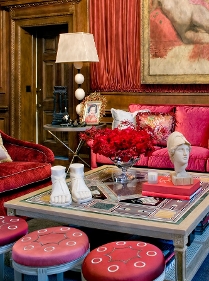 I think that the first step is to figure out exactly what you want to stand for from a design perspective; it's easy to say that you can do any design, but people inevitably want to pigeonhole you and define your style so I believe that you need to define it for them. In my case, I determined that I wanted to be known for a sense of comfortable, timeless elegance. That means that all of the design work that we do and all of the licensing partnerships that we have are in keeping with that central design approach. Finally, and as corny as it may sound, I would talk about the critical importance of always approaching every relationship (whether it be a client, supplier, press, etc.) with a sense of honor and trust. Today, more than ever, those two words make all the difference in one's success.
Join us on Tuesday, January 29 at Winter Market as we welcome our Design Icon recipients from the past, in a retrospective look at the design industry over the last decade. Iconic designers include Timothy Corrigan, Roger Thomas, Larry Laslo, Christopher Guy Harrison and Vladimir Kagan, represented by Christopher Eitel, Director of Design and Production at Vladimir Kagan Design Group. (0.1 CEU)
Tag:
Design Icon
Winter 2019 Las Vegas Market
Designer
Blog Post